Hello all! I have finally returned to the real world. No more hot and flirty Italians for me! I had a lot of fun in Italy. It was gorgeous. Such a shame that the best cities were the ones I stayed in for the shortest amount of time though! Florence, Venice and Milan were spectacular. Wish I had stayed in those cities for the entire trip! Not that Rome and Sorrento weren't good too....
Read on
after the break
if you would like to check out my vacation! If not, here are the winners for my giveaway! After a whopping 508 entrants, we have a winner! A big congratulations to...
And since you've all been so fantastic, I will be drawing that second winner I mentioned previously! One other person will win a book of their choice and that person is
I've emailed both winners and they have 48 hours to respond. If not, I will draw a new winner.
Thank you all so much for making my first giveaway so successful. Happy reading!
DAY 1
This was the most exhausting day of my life. The 24 hours of travelling felt more like 100. I read some of
Anna and the French Kiss
before giving up and listening to the beautiful voice of Darren Criss aka Blaine aka Hot Gay Guy from
Glee
. I kept on giggling at everything so either everything was really funny or I was really delusional. Total sleep out of 24 hours = 2 hours.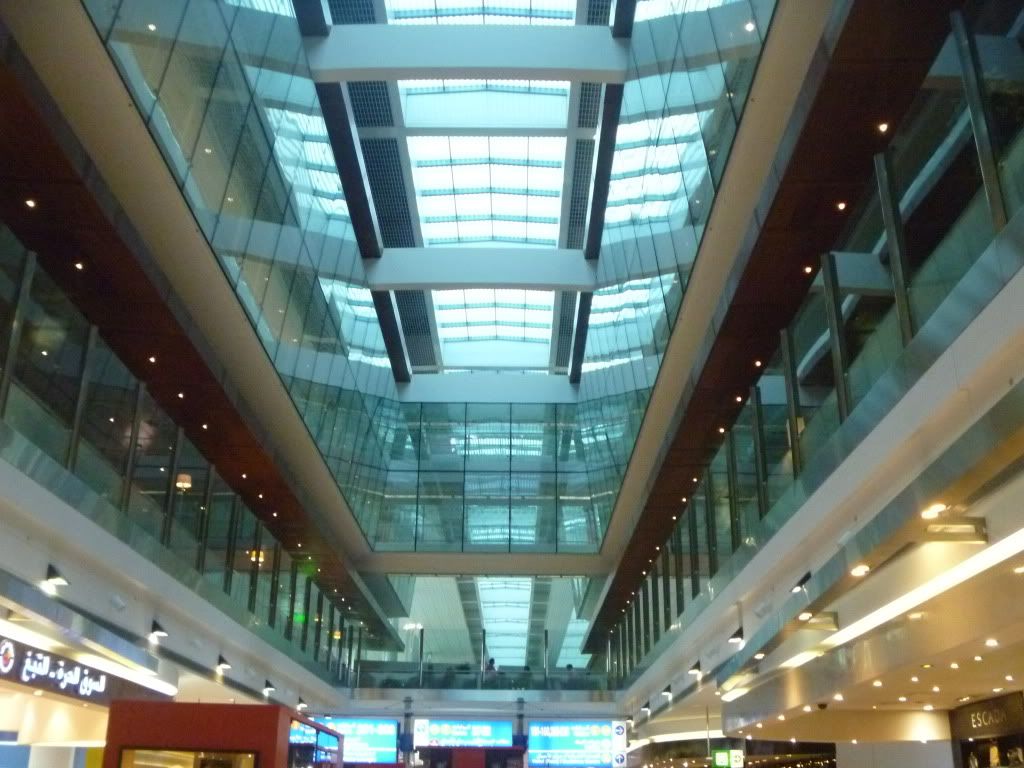 Gorgeous Dubai Airport
I went to Italy with a large group. Everyone everywhere asked us "What sport do you play?" We're wearing matching sports jackets so I guess we asked for it. We should've lied and said soccer.
After the long connection in Dubai, we jumped on the plane to Italy. HELLO hot flight attendant. I'm so gutted that I don't have a picture to show you guys! A new system between us girls was created in honour of him. FA = hot guy. Good code.
DAY 2
I saw the Vatican City, Trevi Fountain, Pantheon and the Spanish Steps. There was no sitting down for over 12 hours.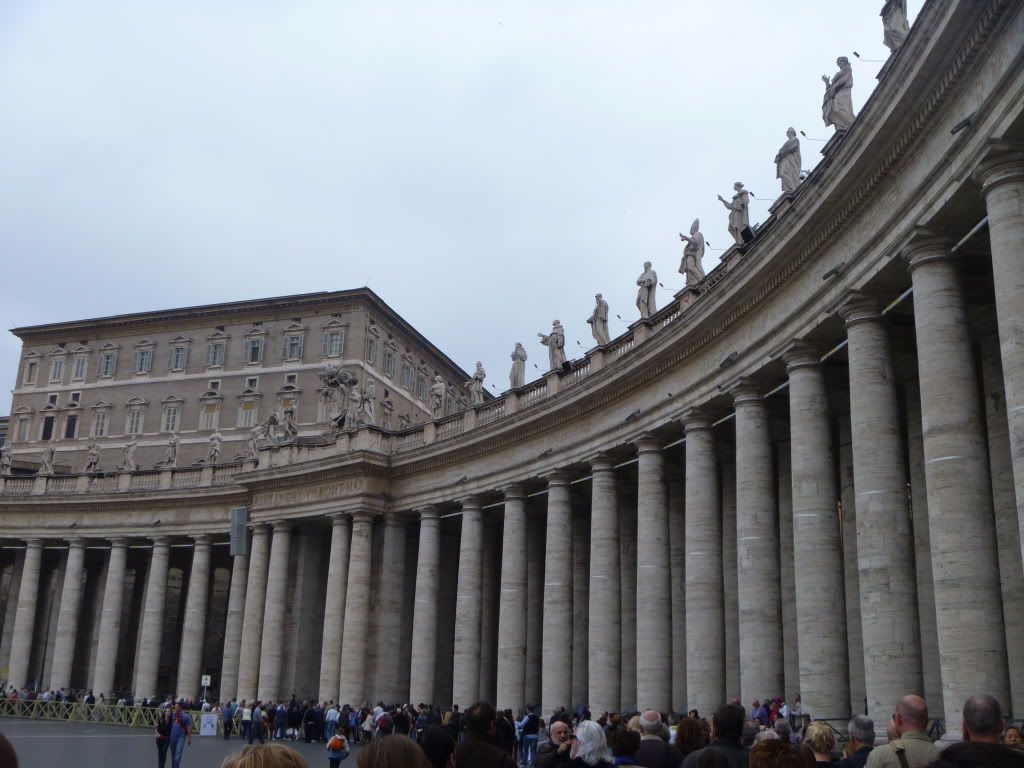 Vatican City - Day before Easter
Trevi Fountain
So after touring the Vatican City for hours, we go to find food. So we head to a restaurant/bar and try making our way in. A group member tries opening the door, pushing and pulling, but she fails and goes to try the other door. I look through the glass and see the hot bartender laughing at us. He motions for me to come in and I point at the woman who has gone to the other door. Still, he motions for me to go in and what do you know? The damn door opens after a pull and I'm met with another sexy laugh. I facepalm, sit down and get served yummy food. Facing the bartender and his nice muscles. *fist pump*
Italy is littered with hot guys, just FYI. If you're lucky, you'll see senior high school students who look over 20 in sexy suit uniforms. My goodness. Where's my bib?
DAY 3
I saw the Colosseum today! Absolutely gorgeous and massive. We unfortunately got the annoying tour guide from yesterday again so it was very drawn out and tiring!
Colosseum
From our hotel to the train station and vice versa, we have to pass this restaurant. No big deal, right? Wrong! There's this waiter/greeter who stands outside it for the whole day and we have to pass him a couple times a day. He was funny at first, trying to be all young, hip and Aussie but later on became creepily pervy...
"Come take a picture with me, ladies!" - One girl went to take a picture with him. He wanted one on his phone also. I don't think so!
"Hottie, hottie. I wanna be naughty!" - Creep. Not walking by you ever again...
"No, I want to hug a girl!" - After getting a hug from one of the guys, he pounces and hugs one of the girls. Glad this was our last night in Rome!
DAY 4
Finally left Rome and went to Sorrento! The scenery was absolutely gorgeous. Big ocean, natural cliffs, gorgeous resorts… LOVE IT! Did I mention that my hotel room had a great view...of the ocean and the SHIRTLESS GUYS PLAYING SOCCER AND VOLLEYBALL ON THE BEACH? *wink*
View of Sorrento from coach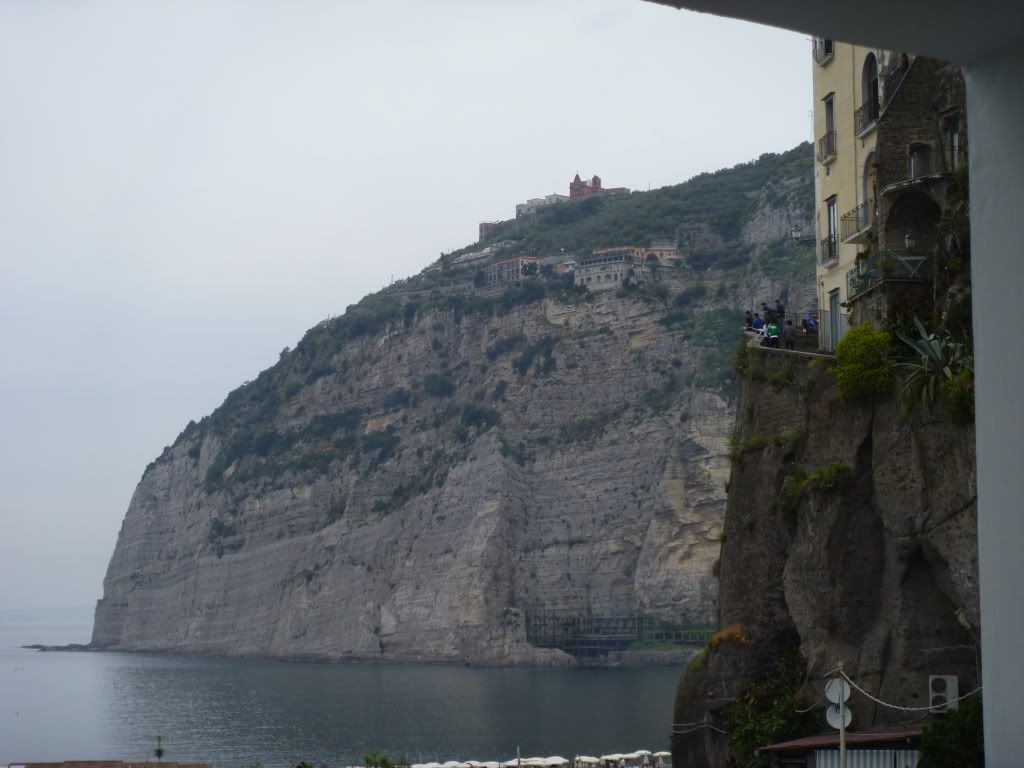 Hotel room view
Hotel Room View
A few interesting things that day. Walking up and down a billion hills trying to find the hotel, being a witness to disgusting PDA on the beach under our hotel room (Don't. Even. Ask.) and being invited to play soccer with random guys on the beach late at night.
DAY 5
I went to Pompeii! I didn't get to see all of it but it was great, even though it was absolutely freezing and drizzled a little. Great little stalls outside filled with souvenirs and jewellery. The guys all asked if I was American and one woman said I looked Italian. That was interesting…….
Pompeii
In the afternoon I stayed in the hotel, not feeling 100% and was told that I missed out on seeing a "really really hot 10/10" waiter at the café. What a shame. But I got to watch Harry Potter: Goblet of Fire that night? Hello Cedric!
DAY 6
Left Sorrento early in the morning and went to stay overnight in Orvietto, which is a short distance from Florence, at this really nice farmhouse. Had the most amazing dinner after being able to make our own pasta.
Checked out a medieval town on the way there. Got to see this little gem!
Orvieto Cathedral
Because of the long walk to and from the main house in the night and morning, I ended up with a fever because of the freezing temperatures (we're up very high) and lack of heat.
DAY 7
I don't know what happened today, other than arriving in Florence. I was absolutely miserable with my fever. Not a good day at all. I did finally get the internet though so it was nice making some contact with friends and family. Also ate this waffle/gelato thing. Delish. Italians don't skimp on the gelato. You order the smallest cup or cone and they absolutely load it - unbelievably so! You can choose a ton of flavours too. Food heaven!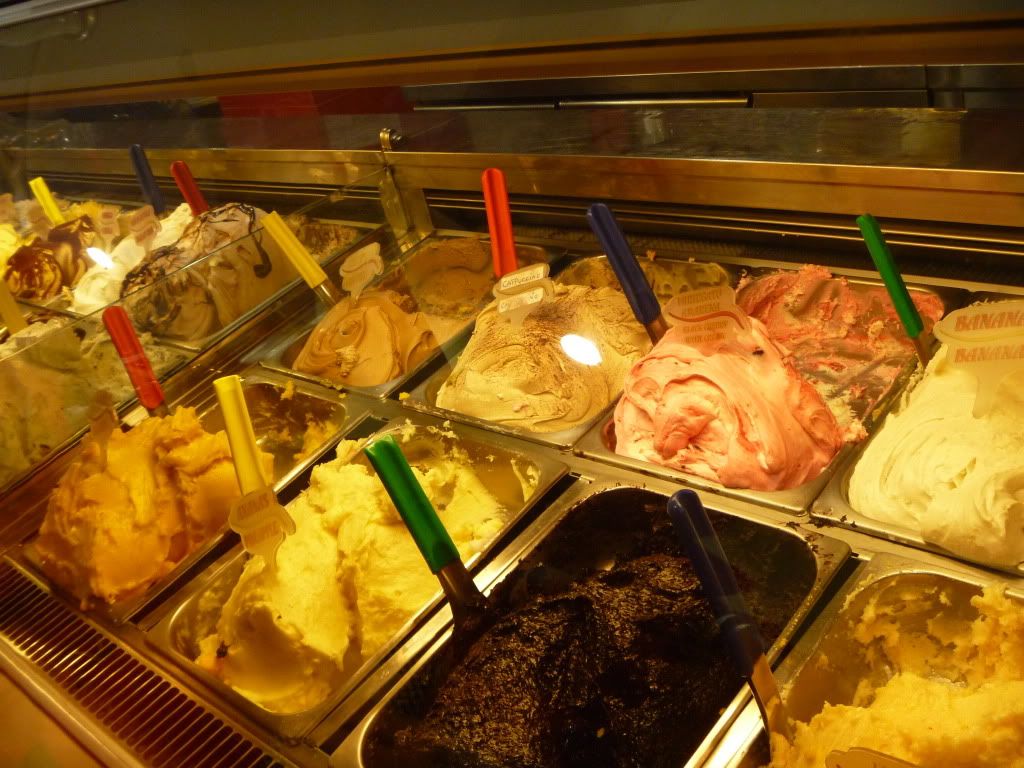 Yummy gelato
DAY 8
Fever receded after a good night's sleep. Also went to the Uffizi Gallery to see many paintings and sculptures. We got to see the Birth of Venus which was great! No pictures unfortunately. It would've been hilarious if I'd taken a picture of all of the male appendages in that building though.
DAY 9
It was White Night (Notte Bianca) that day which is an arts celebration that runs all day and night. You visit all of the piazzas and there's a ton of entertainment! Plus, most shops stay open all nigh and there's free entry to some museums and gallieries. That was an enjoyable day.
Parade
Carousel I felt the urge to ride but didn't
DAY 10
Finally was able to shop at the famous Florence markets. Didn't get to see all of it but what we did see was great. Scored some leather and jewellery!
DAY 11
Took a bullet train from Florence to Venice. I'd just like to say that the bathroom in my hotel room was stunning. I was so happy to get a nice one since I'm kind of nuts when it comes to clean showers. That night, we celebrated a birthday (a string quartet played Happy Birthday for the girl!) before going to see Venezia, a play, which was pretty good.
The play
The show had moving projections on all walls
DAY 12
I was able to visit two well known islands today - Murano and Burano. The former specialises in making glass products and the former in lace. Lots of shopping was done! Also went on an amazing gondola ride. The man sang to us! :)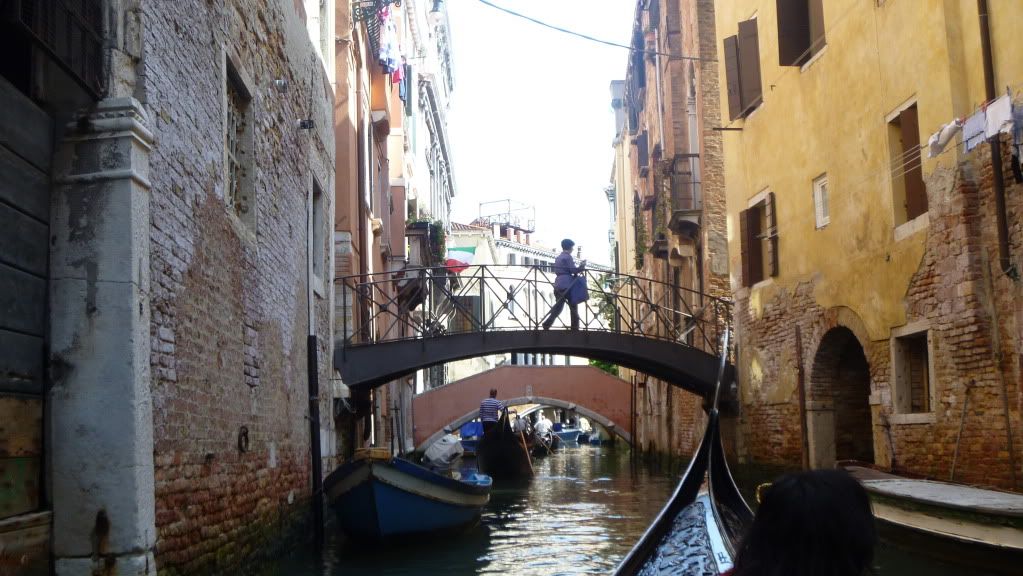 The ride
Our gondola
DAY 13
I had one day to spend in Milan. No shopping, would you believe? But I did get to see The Last Supper which was great. Tour guide thought we were uninterested but what did she expect? We were dead tired and starving!
Milan Cathedral
This was my last night in Italy. Sad to go back to the real world but excited to get back to my things and people! Had a great celebration and sleep in the next day!


DAY 14
Headed to the airport at 11am Thursday and got to Perth at 8pm Friday. The flight seemed shorter than the one to Italy since I got to sleep, even though times were all screwed up and it was about 5am when I did so! Two weeks just flew by. Great vacation. Great experience. Will definitely be returning to Florence, Venice and Milan in the future!
CONCLUSION
Who knows if that all made sense but too bad. It's 6:30am and I haven't slept yet. Blame the darn time difference which I haven't gotten used to yet. Or my 3pm wake up today......
Hope that wasn't too boring. No pictures of me in this recap because 1) They're all on other people's cameras 2) I don't like the idea of plastering pictures of me all over the net
If you made it this far, come get a hi five. Or maybe just comment.